We'll be bringing you some longer reads and features to give you insights and information about all things Lakeland Trails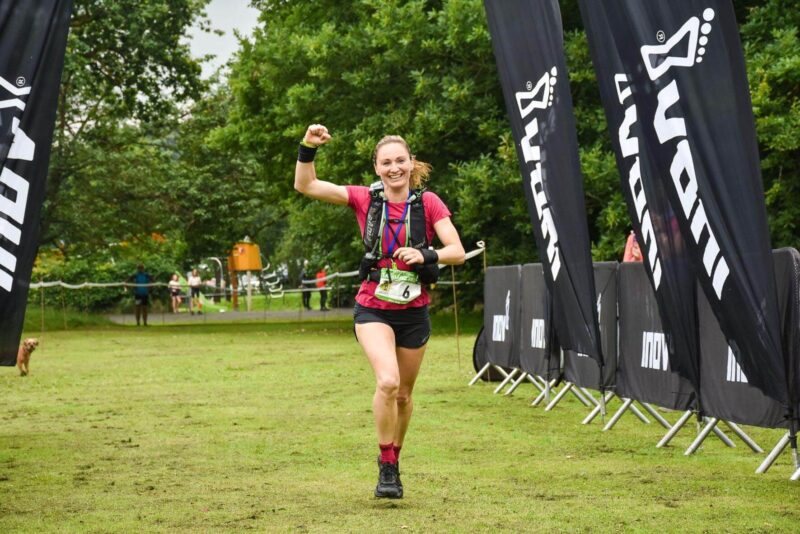 An interview with Meryl Cooper
New inov-8 ambassador Meryl Cooper won the 2021 Lakeland Trails 100k, which doubled up as the British Ultra Running Trail Championships, in a new course record time of 11hrs 32mins.
Meryl is now preparing for the CCC (a 100k race which is held as part of the prestigious UTMB event in Chamonix, France). After that she will head to Thailand for the World Trail Running Championships to represent Great Britain in a very strong women's team alongside Beth Pascall and Jo Meek.
How do you reflect on your win at Lakeland Trails 100k?
"The course was so lovely on my recce a few weeks befroehand, it lured me into a false sense that is was going to be as equally lovely racing it too! It was really tough. The last 30k was, for me, the hardest endurance test I've ever had. I was buzzing to have won. It made a dream come true with selection for the Great Britain, alongside such an incredible team of ultra runners."

Tell us about yourself and what motivates you to run ultras?
I'm 34 and live near Aberdeen, Scotland. I have always loved playing sports and did so until around 2018 when I started to focus on just running. I played club level basketball and squash for a number of years, but football and dance were my main sports, the latter which I did at a semi-professional level. I ran my first ultra-trail 50k in Switzerland in 2017 with the goal to just finish. It was also a challenge/early-life crisis decision after turning 30 years old! How I feel at the end of an ultra is what motivates me to run more of them. I reflect back on the whole training block and get such a huge sense of achievement and enjoyment from the months leading up to and ultra and the learning process that it is. I love the training block as much as the race itself.
Do you have any ultra running race superstitions?
No race admin in the two days before the event, except race registration of course. I like to have all my thinking and planning done so I can have a couple of days 'holiday' from running before a race. Well, that's a lie, as my usually I end up watching running documentaries or reading inspiring running books! A break from 'my running' is what I mean!
What's the best piece of ultra running advice you've been given and put into practice?
It's not the fastest person who wins an ultra, it's the person who slows down the least.
What do you like to eat/drink before and after an ultra?
Pasta, salmon, broccoli, spinach and pesto for dinner the night before. Porridge on race day and all the pizza I can find afterwards! This usually involves me ordering the biggest pizza possible and then only managing about two slices!
What do you think about more than anything else during an ultra running race or challenge?
Hmmm, I'm not really sure. I definitely think a lot about eating, not falling over and pacing… 'Oooh am I going too fast? Am I going too slow?!' I think it's probably eating/fuelling which occupies my mind most, especially over 100k.
What is your favourite piece of ultra running kit you couldn't go without?
My TERRAULTRA G 270. These shoes suit the rocky trail terrain that I prefer and are super-comfortable and responsive. I also love arm sleeves. I find them so good for quickly raising the body temperature when it gets a little bit chilly but not cold enough to put your jacket on.
Lakeland Trailers review the new inov-8 TERRAULTRA G270
One of the great things about inov-8 is that they're pioneering amazing new technology and are constantly improving their products. As part of that process, they go through a rigorous testing process and a couple of lucky Lakeland Trailers recently had the opportunity to try out this amazing updated shoe.

Paul Tierney on the trails in the new TERRAULTRA G270
Review by Guy Bettinson
Shoes reviewed against the following categories:
Weight – Why? Because when you're lifting your foot and moving it forward tens or hundreds of thousands of times during a race every extra gram you have to lift counts, so those grams better pay for themselves in terms of cushioning, energy return, grip etc.
Fit – Why? Because discomfort is a distraction, and physical damage to your feet can slow you down over time.
Cushioning – Why? Because running hundreds of miles takes its toll on the MSK system, regardless of how lean you are and how efficient your technique is, so anything that can help minimise impact forces has to be good right?
Grip – Why? Because loss of traction equals loss of speed, either directly, or through loss of confidence.
Weight
Inov8 Terra Ultra G270 (UK 7.5)

Weight in Grams*

L

R

Average

+/- from Dry

Dry

258

266

262

Wet

360

361

360.5

+98.5

5mins after Wet

336

340

338

+76
*Test conducted with shoes fresh from the box using my bath and kitchen scales.
Where does the weight come from? The majority of weight sits in the sole, with ultra shoes requiring at least some cushioning in the insole and midsole to help mitigate impact forces over time, and reasonable lug depth in the outsole to provide grip given most ultras are run off-road. The uppers shouldn't weigh much, but can sometimes retain water depending on the material they're made from and how well they drain. So given all of that, how do the G270s hold up? Very well indeed is the short answer. Billed at 270gm per shoe, my UK7.5s came in slightly under, and are a competitive weight when compared against other companies' ultra shoe offerings. Importantly, the shoes don't gain much weight when wet, draining very well after going through streams, and the cushioning and grip are in this case worth the weight.
Fit
Having previously been a firm fan of Inov8 shoes, I fell out of love with them a couple of years ago when the quality and fit of the uppers became so poor on some of the models the uppers felt like uncomfortable potato sacks, and wore through in no time at all. The G260s fell into that category for me, with the uppers so loose it was impossible to lock in the midfoot without lacing so tight it cut off circulation, and the heel collar so uncomfortable I actually ended up cutting mine down and resewing them before a race. The G270s are much MUCH better. More akin to the wonderfully comfortable uppers from the Parkclaw 275s, the bizarre fat green laces from the G260s are gone, and replaced with flat stretchy ones, that combine with the rubber overlays to help lock-in the midfoot really well, without impacting the ability of toes to splay naturally in the roomy toe box. The heel counter and collar are comfortable, providing the perfect compromise between some cushioning, but not so much that the shoe swells up like a nappy following a steam crossing. The cut of the collar is great, and doesn't irritate knobbly ankle bones or rub the achilles. I'm a believer in the idea that the only time you should even notice you're wearing a pair of shoes is when the grip allows you to push harder than you thought you could down a technical descent or up a slippery climb, or when the cushioning allows you to keep running when you're at the stage you should be hobbling at best – the fit shouldn't even come into it – if you notice the fit, it's usually for the wrong reasons. Did I notice the G270s' fit? Nope.
Cushioning
I'm of an age now where I actively seek the most marginal of gains when it comes to helping my MSK system, so the cushioning vs weight compromise is a key factor for me when buying ultra shoes i.e. I want as much cushioning and energy return as I can get, but not at the expense of having to lift an extra 50gms every stride. Even most off-road ultras contain at least some sections of tarmac, and even long rocky sections and metalled roads can take their toll, but as there is also the need for a decent amount of 'ground feel' given the uneven nature of most off-road terrain, it's a tricky one for shoe companies to nail when producing ultra shoes. With all that in mind I was really excited to read about the higher proportion of TPU in the G270s' midsole, and new TPU insole. The difference to the G260s is noticeable, and there's enough cushion and response for long sections of tarmac. The only thing preventing me from being blown away by the shoes and having a new 'go-to' is the inevitable elephant in the room of zero-drop. I was a little nervous about trying the G260s when first released, as it had been years since I had experimented with a transition to zero-drop, with a brief time spent running in Unshoes Wokova sandals, and to cut a long story short it just wasn't for me. I found that late in runs when fatigue sets in and form starts to go I really appreciated a bit of extra cushioning and some assistance from a stacked heel. I'm not sure of the thinking from Inov8 on why the G260 & G270 are zero-drop, when the rest of their range have at least some, and for me, if the G270 had 6mm or so of drop to provide a little extra cushion and a helping hand when fatigue sets in, then I think I could finally stop the search for the shoe that does everything. If I had one request it would be to leave zero-drop to Altra and add somewhere between 4-8mm drop to the next version of the G270s.
Grip
Normally it's not even worth bothering to write anything when it comes to Inov8 grip, as my experience of their shoes is the grip is usually about as good as you'll get for whatever the intended purpose of the particular shoe is. I will put something down here though, as I feel it's worth mentioning the significant improvement made from the G260s. The G260s were one of the first of the Graphene-Grip range, and I was disappointed by the tread pattern, tread depth and longevity of the rubber with the grip seemingly reliant on weird recesses that just filled up with mud, and the rubber on the heel section showing significant wear after only 100 miles. Inov8 have nailed it with the G270s though, and even before putting them on I was really impressed with the tread pattern and much better use of cut-outs to achieve flex and weight reduction without having the mud collectors of the G260s. I had complete confidence on all surfaces in the G270s, and having put the miles in across just about every type of terrain going the only time I lost traction at all was one time in a section of thin liquid mud on top of a smooth rock slab where nothing other than picking a better route would have helped.
Summary – 9/10. Why the zero-drop?!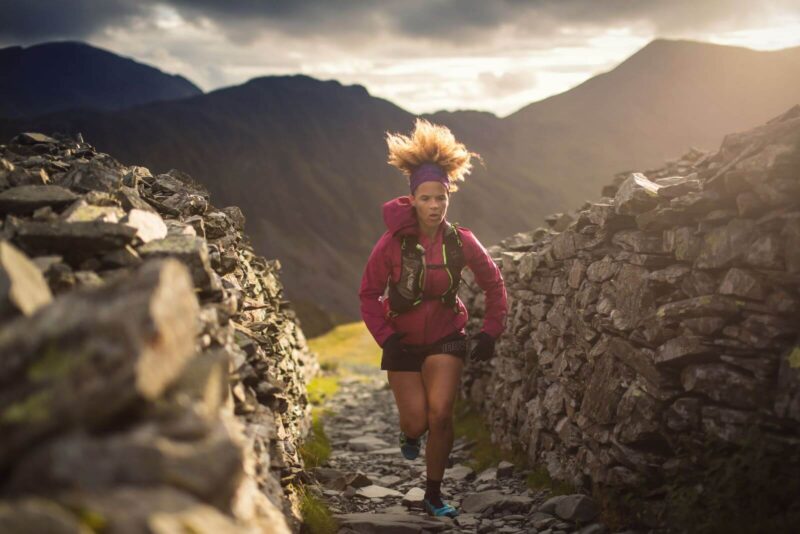 Sabrina Pace-Humphreys on the trails in the new TERRAULTRA G270
Review by Lou Winter
Your average runner's review - TERRAULTRA G270
I am 'your average runner' and profess to be nothing more than just that. What's more I am quite happy at being just that. I apologise if any of the stereotypes referred to do not sit well with some; please do not take offence, any are used with reference to myself only.
As a 40 (and a bit) professional blonde female I have little time for or interest in technicalities, data, and statistics. I run because it keeps me sane and, less so these days, reasonably fit. As a creature of habit, once I find kit that works for me I repeat buy. Why would you try to fix something that wasn't broken?! As a Midlander until 2014 I was predominantly a road runner. I began to venture to the Lakes in 2010 and ran a little on the trails. This of course required a different shoe. My trusty provider of all things running at the time, 'The Lincolnshire Runner', recommended the Mudclaw 285. They fit perfectly and I still have the first pair I bought although, they were retired many years ago and are used for tootling around on the bike or paddle board.
From 2013 I started competing in the Lakeland Trail race, firstly Keswick, then venturing further afield so that by 2016 I took part in all the races in the series. The various models of the trusty Mudclaw saw me round each course and the variety of terrains they run across.
However, in 2017 whichever Claw I bought I had problems I had never experienced before; pinching, blisters. I have no idea what happened. Whether rightly or wrongly, I blamed the design alterations. Eventually, after being a little unfaithful to Inov-8 (sorry I was cross) I was drawn back by the brilliantly green Terraltra 260. They felt like slippers, accommodating my rather short wide 'paddle' feet perfectly. Between 2017 & 2019 I did a lot of running and racing (some would say too much). Regularly racing 5k to 50 miles on road, trail and fell. The Terraltra never let me down and I went though countless pairs.
I was chuffed to bits to be asked to try and review the new 270's but I was also full of dread that the design tweaks and alterations to the 260's would result in my feet falling out with them as had previously happened with the Mudclaw.
True to type, I did the sensible thing when first trying out and bedding in a new shoe, I ran the virtual Lakeland 50 over 5 days in them. Now I cannot tell you what the design tweaks are but, I can tell you, the shoe I believed to be perfect has been improved by whatever has been done to the design. First time out over a 9 mile mix of road and Latrigg trails was a delight. The 270's seemed more supportive than the 260's and were definitely comfier. The grip more than adequately coped with wet rock, wet grass and mud aplenty. I wondered whether I was experiencing 'new shoe glee fog' being rather like a magpie with shiny things when it comes to running shoes but I am pleased to say the positive experience recurred again and again on each wearing.
There may be cheaper shoes available but, for the average runner who has no time or patience for trying to find a less perfect suitable alternative, for the average runner who wants, or even needs, to get out and run in comfort regularly, the Terraultra 270's are worth their weight in gold so to speak.
Celebrating 15 years supporting (and being supported by) Coniston Mountain Rescue Team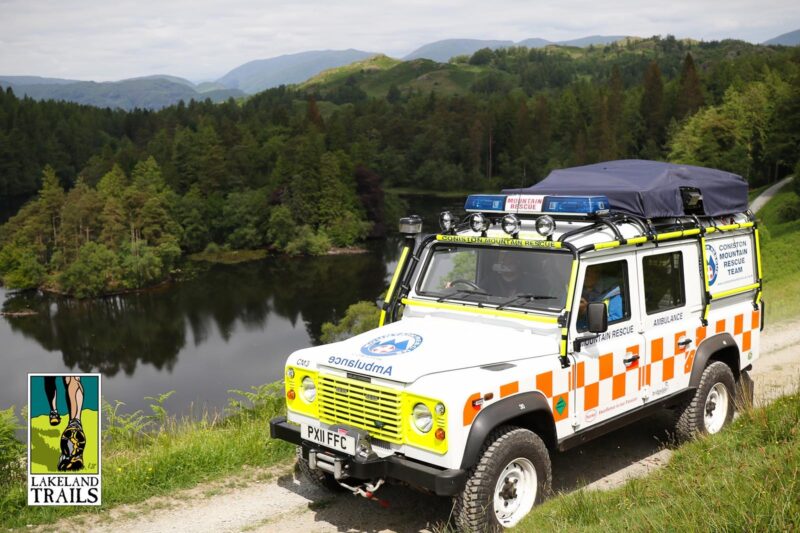 We're always grateful for the support we receive from Coniston Mountain Rescue Team, as their volunteers always turn up in numbers to help at both our Marathon and regular Lakeland Trails in Coniston events. As we're approaching 15 years of working together, we asked their Fundraising Co-ordinator, Liz Ribchester (who's now a converted Lakeland Trailer), for a bit of a background to the team and the amazing work they do:
Founded in 1947, following the tragic death of a walking guide in the area, Coniston Mountain Rescue was the UK's first civilian Mountain Rescue Team. Covering the fells, forests and waters of the Coniston area, our volunteers provide a highly skilled search and rescue service. Team members are qualified swift water technicians, casualty carers, off road drivers, cavers, search dog handlers, climbers and rope technicians - willing and able to help anyone, anywhere whatever the circumstances.
Over the years rescues have involved children, adults, vehicles and animals. We also train constantly, meeting regularly to cover all relevant aspects of rescue work. In addition, team members also attend external courses on off road driving, rope rescue, equipment safety, swift water, first aid…to name but a few. During the current Lockdown situation, we have been training remotely via video conference, covering additional topics including Covid-19 protocol when working with a casualty, effective use of PPE and methods for decontaminating equipment following a call out.
And our commitment doesn't stop there. As an entirely voluntary charity, we rely on the generosity of the public and other grant-giving organisations to ensure our continued support for those in trouble. In exchange for this support, we make every effort to give back to the communities that help us - in this case, The Lakeland Trails series. Over the years we have provided marshals and support to the events held in both Coniston and Hawkshead. Indeed, many regular Lakeland Trailers will no doubt be familiar with some of our marshals, as they cheer you all on from regular spots around the course.
The team ranges in age from 18 to 76. Some of us have families. Some of us are retired. Some of us work full time. And some of us are Lakeland Trailers ourselves! But whatever our backgrounds, ages or interests, we have one thing in common: we are all proud to call ourselves volunteers for Coniston Mountain Rescue.
Thank you for your on-going support for the work of the team. Stay safe, and we look forward to seeing you all at the Coniston Trail and Marathon events later this year!
An Interview with Dr Grip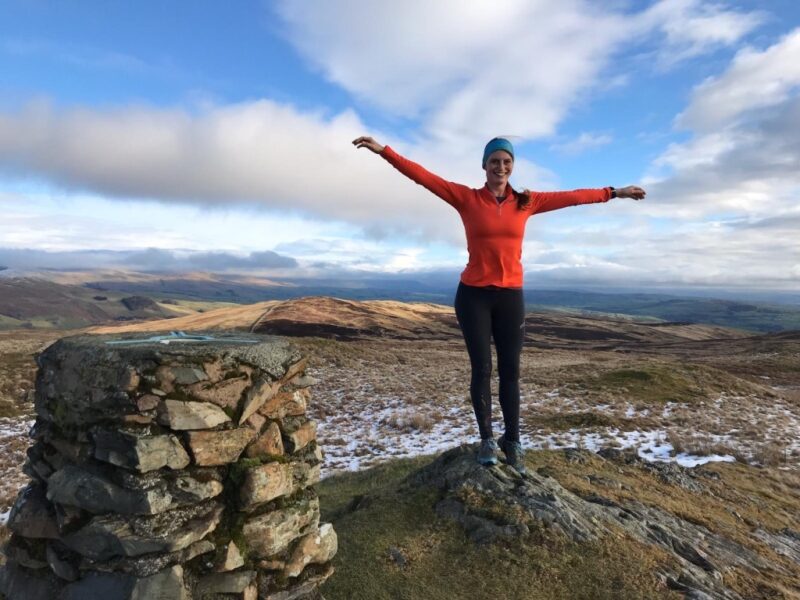 We sat down with inov-8 footwear manager, Dr Bodil Oudshoorn, to get some advice about choosing and looking after a new a pair of inov-8s. Bo, who is known as 'Dr Grip' to her colleagues, is not only a footwear genius but an accomplished ultrarunner herself so she knows her stuff!

What is drop and why is it important in your shoe choice?
Your shoe drop is the difference in the amount of cushioning under your heel versus under the ball of your foot. Usually, road running shoes have a 10mm drop, meaning there is 10mm more foam under your heel than under the forefoot. Trail running shoes normally have a bit less, and it is important to keep drop in mind especially when buying your first trail shoes. If you are used to road running shoes, I would recommend not going too low immediately. A shoe with 6mm or 8mm drop should feel similar enough to your body. If you go to a 'low drop' shoe straight away (I would say 4mm drop or less), your calf muscles and/or Achilles tendons can get sore!
Which drop a trail runner prefers is very personal. Some people like lower drop shoes because it makes them feel more 'on their toes' and they allow the heel of your foot to be closer to the ground. Other people simply don't get on with low (or even zero) drop shoes. The best thing to remember, is to transition slowly if you change the drop in your shoes.
Can you talk us through the different types of grip on shoes and explain what sort of grip you would choose for different ground?
When picking a trail running shoe I always consider the grip first. Where am I likely to be running? Will it be wet or dry, rocky or muddy, or do you expect all of those? The reason is that the best grip on your shoes is dependent on the terrain. Soft terrain such as grass and mud are best tackled in shoes with longer studs. Our X-TALON and MUDCLAW shoes have long, pointy rubber studs (8mm) that sink deep and claw through soft ground to give really good grip. So for Lakeland Trails courses like Cartmel when there is usually lots of mud and soft ground, you may want this kind of aggressive grip to ensure you stay upright on the otherwise slippery downhills!
If the terrain is hard and rocky, you don't need long studs and instead get better grip from shoes with shorter 4mm studs (such as the TRAILROC). Because the studs are shorter we can fit more of them on the outsole, which in turn means more rubber is gripping to the hard trail and rocks when you land on them. This gives you confidence when running over hard and rocky terrain. The TRAILROC would be ideally suited to Lakeland Trails events in Staveley, Ambleside, Coniston and Helvellyn.
If you're going to be running over a course that is a mix of soft/muddy ground and hard/rocky terrain then you want to go for an all-rounder in grip. Our ROCLITE shoes have intermediate stud length (6mm), and the studs are slightly wider. This means you can have both great grip on soft & hard surfaces! If you're looking for an all-round shoe for the Lakeland Trails events, then it would be the ROCLITE!
Beside the shape of the studs, the rubber material they're made from is also really important to give you the best grip. Any shoes with graphene-enhanced rubber give you a super sticky grip on slippery surfaces, and the graphene makes the outsole last longer too! Top tip: if you want a graphene shoe, look for the "G" in the shoe name – which comes before the number. For example – ROCLITE G 275 is a graphene-enhanced shoe that weighs 275g.
How important is cushioning and why?
Your ideal cushioning is again related to the ground conditions; soft mud naturally gives you cushioning, while on a hard path you probably want to get this comfort and protection from your shoe. Next to that, it also depends on your distance. If you are going a long way, like the Marathon at Coniston or one of the Ultra 100K or 55K Challenges you are likely to want a more cushioned shoe, plus a wider fit for added comfort in the toe box as your feet will most probably swell. I'd recommend looking at our new, improved TERRAULTRA G 270, TRAILTALON 290 or X-TALON ULTRA 260 shoes.
If you want to run fast over shorter distances, I would go for a lightweight shoe with less cushioning – shoes like the X-TALON G 210 or TRAILTALON 235. Again, the ROCLITE shoes are the best all-rounders, where you get a balance of cushioning and lightweight feel.
How often should you change your shoes and what are the signs to look out for when you need a new pair? If you've bought graphene shoes will they last longer?
The standard recommendation from shoe manufacturers across the world is to replace your shoes every 300-500 miles (500-800km). It does depend on how heavy your shoes have been used; at inov-8, we always assume our shoes are going to be put through the toughest test possible! With Graphene we have made it possible for our outsoles to provide the best possible grip with enhanced durability. Our wear testers have even worn our Graphene shoes for more than 1,000 miles! But the amount of wear does depend on the terrain and the user, so I can't say every shoe will last that long.
Can you give us your top tips for shoe care, to make them last as long as possible?
There are a couple of things you can do to help improve the durability of your shoes, especially the upper materials.
1 Rinse your shoes after a muddy run - I normally just stand in a river at the end. The boggy terrain we often run through is actually quite acidic, and this acidity can cause the materials to degrade quicker. Rinse your shoes out, don't let the mud 'cake' on them and you'll help your shoes last longer.
2 Don't expose them to high heat – I would not put my shoes in the washing machine, in the dryer or on top of the radiator. The glues used in the shoes don't like the heat. Instead, wash them in a bucket with cold or lukewarm water and dry them by stuffing newspaper in.
3 Take the insoles out after arun – I find this helps the shoes to dry properly when they are wet. It makes them a lot less smelly, actually!